How to upgrade CloudBerry Backup license
Upgrading Cloudberry Backup license for Windows client
If you have decided to upgrade your CloudBerry Backup standalone license to the different standalone edition, please, do the following.
Please note that this will not work for Managed Backup Service.
Release procedure
In order to perform to upgrade your license you need to click on main button, go to Help -> Release license.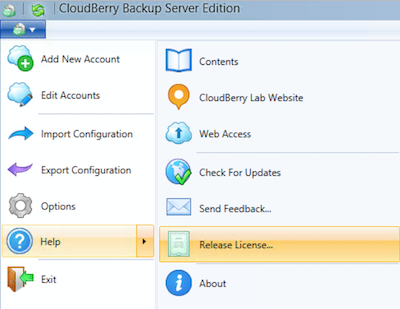 Upgrade procedure
First of all open the link below and provide your license key and email.
http://www.cloudberrylab.com/upgrade-license-release.aspx
Then click check and then pick what is the desired license type you want for the product.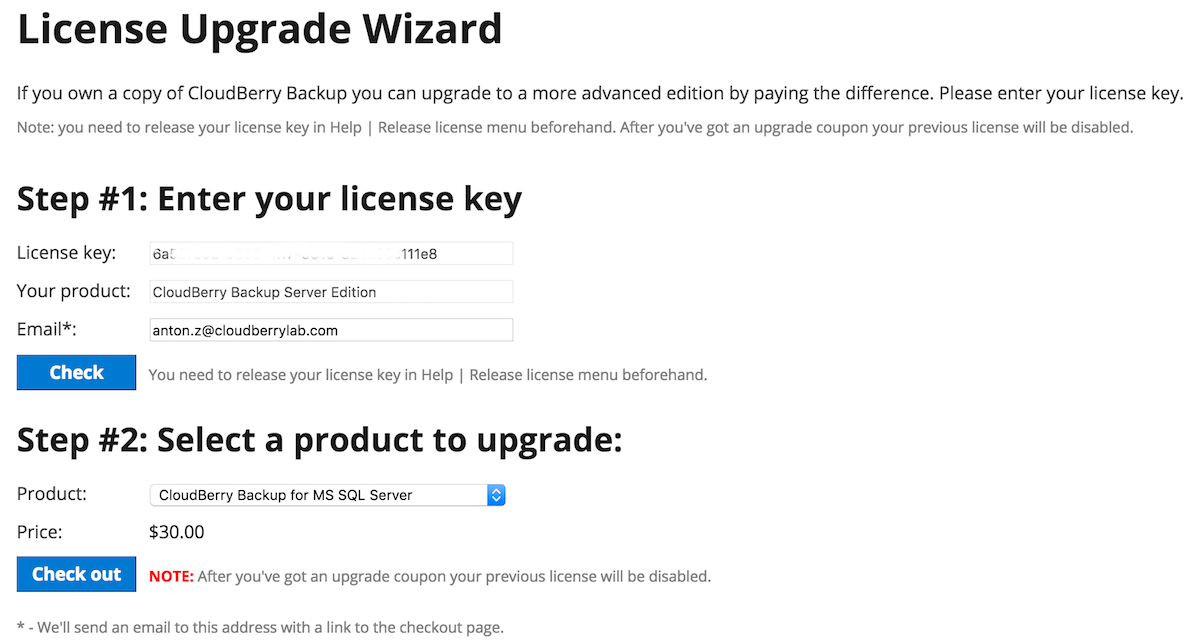 CloudBerry Backup for Mac OS X (CLI with logs, configuration output)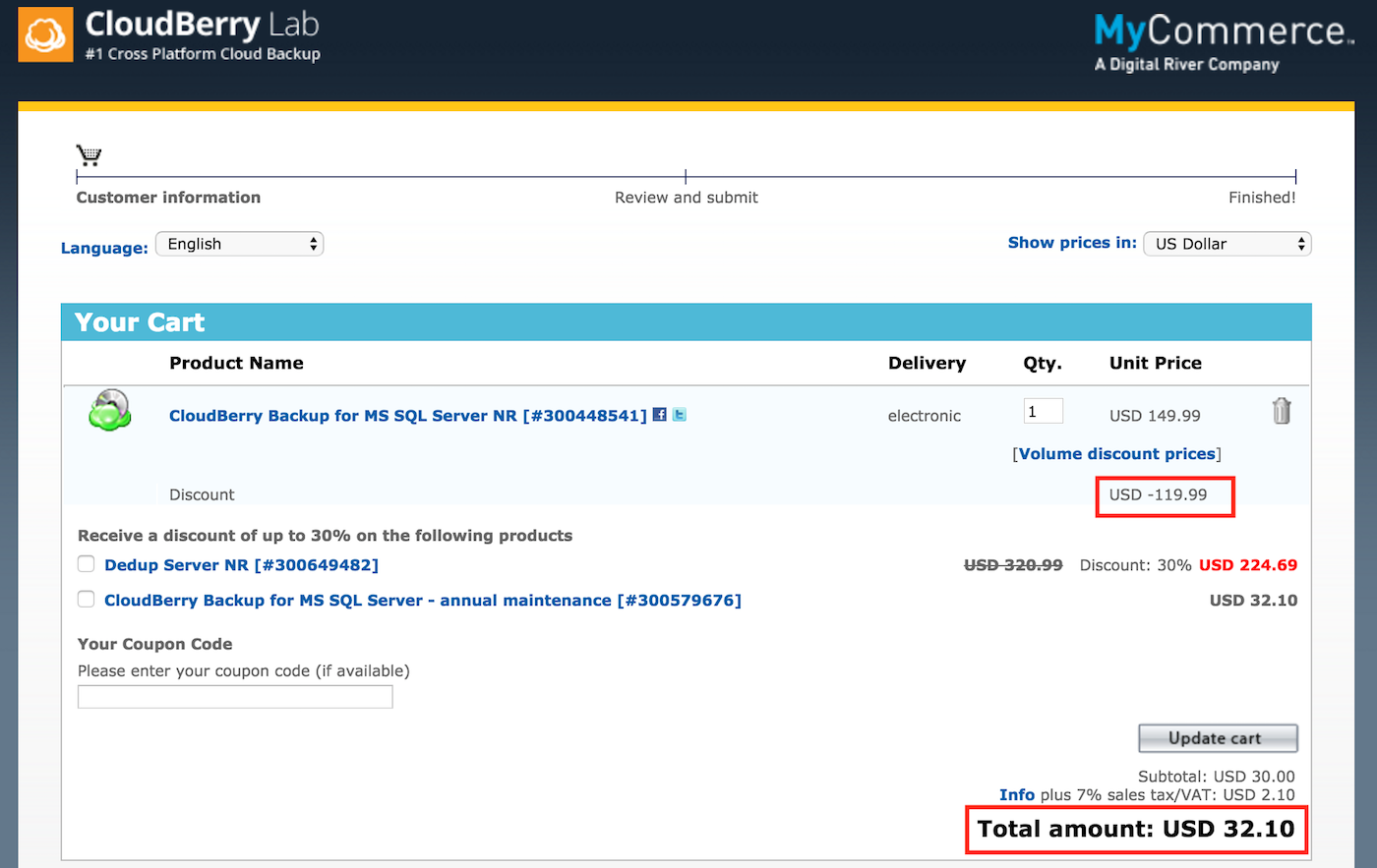 Click Check out and you will be redirected to our payment processor where you can provide your payment method and proceed with payment.
---
Contact Us **Tech questions**: [tech@cloudberrylab.com](mailto:tech@cloudberrylab.com)  **Sales questions**: [sales@cloudberrylab.com](mailto:sales@cloudberrylab.com)  
                                                            <span style="display:inline-block;width:10px;height:20px">&nbsp;</span>&nbsp;
                                                            <a href="https://twitter.com/cloudberrylab" style="color: #4e4e4e; display: inline-block; font-family: Arial,sans-serif; font-weight: 400; line-height: 1.3; margin-bottom: 10px; padding: 0; text-align: left; text-decoration: none;">
                                                                <img src="https://www.cloudberrylab.com/img/newsletters/aws/bt.png" alt="twitter" style="-ms-interpolation-mode: bicubic; border: 0; clear: both; display: inline-block; max-width: 100%; outline: 0; text-decoration: none; width: auto;"/>
                                                            </a>
                                                            &nbsp;<span style="display:inline-block;width:10px;height:20px">&nbsp;</span>

                                                            <span style="display:inline-block;width:10px;height:20px">&nbsp;</span>&nbsp;
                                                            <a href="https://www.facebook.com/CloudBerryLab" style="color: #4e4e4e; display: inline-block; font-family: Arial,sans-serif; font-weight: 400; line-height: 1.3; margin-bottom: 10px; padding: 0; text-align: left; text-decoration: none;">
                                                                <img src="https://www.cloudberrylab.com/img/newsletters/aws/bf.png" alt="facebook" style="-ms-interpolation-mode: bicubic; border: 0; clear: both; display: inline-block; max-width: 100%; outline: 0; text-decoration: none; width: auto;"/>
                                                            </a>
                                                            &nbsp;<span style="display:inline-block;width:10px;height:20px">&nbsp;</span>

                                                            <span style="display:inline-block;width:10px;height:20px">&nbsp;</span>&nbsp;
                                                            <a href="https://www.linkedin.com/company/cloudberry-lab" style="color: #4e4e4e; display: inline-block; font-family: Arial,sans-serif; font-weight: 400; line-height: 1.3; margin-bottom: 10px; padding: 0; text-align: left; text-decoration: none;">
                                                                <img src="https://www.cloudberrylab.com/img/newsletters/aws/bl.png" alt="linkedin" style="-ms-interpolation-mode: bicubic; border: 0; clear: both; display: inline-block; max-width: 100%; outline: 0; text-decoration: none; width: auto;"/>
                                                            </a>
                                                            &nbsp;<span style="display:inline-block;width:10px;height:20px">&nbsp;</span>

                                                            <span style="display:inline-block;width:10px;height:20px">&nbsp;</span>&nbsp;
                                                            <a href="https://www.youtube.com/channel/UCUOQdht8WFME8brKdXMzQhQ" style="color: #4e4e4e; display: inline-block; font-family: Arial,sans-serif; font-weight: 400; line-height: 1.3; margin-bottom: 10px; padding: 0; text-align: left; text-decoration: none;">
                                                                <img src="https://www.cloudberrylab.com/img/newsletters/aws/by.png" alt="youtube" style="-ms-interpolation-mode: bicubic; border: 0; clear: both; display: inline-block; max-width: 100%; outline: 0; text-decoration: none; width: auto;"/>
                                                            </a>
                                                            &nbsp;<span style="display:inline-block;width:10px;height:20px">&nbsp;</span>

                                                        </p>