Differencing Disk Files (avhdx) Are Not Merged After Checkpoint Is Created
Situation
When performing Hyper-V backups, Backup for Windows addresses a Hyper-V server to create a checkpoint. As a part of created checkpoint *.avhdx differencing disk files are created as children of virtual machine disk/checkpoint differencing disks.
As the Hyper-V backup plan completes, the checkpoint must be removed, and differencing *.avhdx files must be merged with parent disk files.
In some cases, the Hyper-V server does not merge them. This results in an impressive amount of auxiliary *.avhdx files left in Hyper-V hard disks locations.
In case the backup plan is configured to back up a checkpoint tree, this may lead to a significant backup size and backup time, respectively.
Cause
Most probably, VM disk merge fails due to disk is captured by third-party software.
Solutions
Since the cause of such Hyper-V server behavior is not clear, there may be several solutions for this case. Run across the possible solutions to find the right one.
Upgrade Backup for Windows to the Latest Version
In the application menu, select Help, then select Check for Updates.
If a new version is found, download and install it.
Run the Hyper-V backup plan again.
Install Recommended Hotfixes for Hyper-V Servers
Install Hyper-V server hotfixes according to your operating system version.
Windows 2012 R2
Windows 2012
Windows 2008 R2 SP1
Virtual Machine Start/Restart
To restart VM on the Hyper-V server, proceed as follows:
Open Hyper-V Manager.
In the Virtual Machines window, select the required virtual machine, then right-click on it.
In the context menu, select Reset.
Repeat steps 2-3 for all running virtual machines.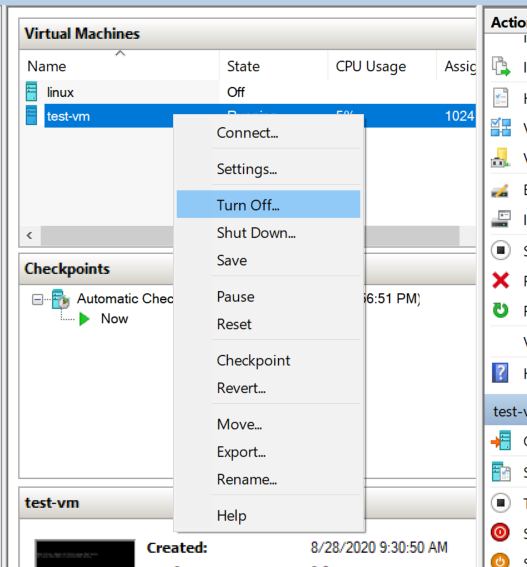 Hyper-V Server Reboot
If a VM import does not help and merge is still not performed, restart the Hyper-V server.
Hyper-V Machine Import
To import virtual machines, proceed as follows:
Open Hyper-V Manager.
In the Actions menu, click Import Virtual Machine.
Click Next.
Select the folder that contains the exported files, and click Next.
Select the virtual machine to import.
Choose the import type, and click Next.
Click Finish.