Differencing Disk Files (avhdx) Are Not Merged After Checkpoint Is Created
Situation
During Hyper-V backup plan execution, Backup for Windows addresses a Hyper-V host to create VM checkpoints. As a part of a created checkpoint, *.avhdx differencing disk files are created as children of virtual machine disk/checkpoint differencing disks.
As the Hyper-V backup plan completes, a created checkpoint is a subject to remove and differencing *.avhdx files are to be merged with parent disk files.
In some cases, the Hyper-V host fails to merge *.avhdx files. This may result in an impressive amount of auxiliary *.avhdx files left in Hyper-V hard disks locations and no free space as a consequence.
In cases where a Hyper-V backup plan is configured to back up a checkpoint tree (for example, all plans in legacy backup format), this can result in significant backup size and time, respectively.
Cause
This host misbehavior is on the Hyper-V side and its causes are unclear.
Solutions
Since the causes of such Hyper-V host behavior are unclear, there may be several solutions for this case. Run across the possible solutions to find the right one:
Upgrade Backup for Windows to the latest version
Install recommended hotfixes for Hyper-V servers
Start/Restart the virtual machine
Reboot Hyper-V server
Upgrade Backup for Windows to the Latest Version
In the application menu, select Help, then select Check for Updates.
If a new version is found, download and install it.
Run the Hyper-V backup plan again.
Install Recommended Hotfixes for Hyper-V Servers
Install Hyper-V hotfixes according to your operating system version.
Windows 2012 R2
Windows 2012
Windows 2008 R2 SP1
Start/Restart Virtual Machine
To restart VM on the Hyper-V, proceed as follows:
Open Hyper-V Manager.
In the Virtual Machines window, select the required virtual machine, then right-click on it.
In the context menu, select Reset.
Repeat steps 2-3 for all running virtual machines.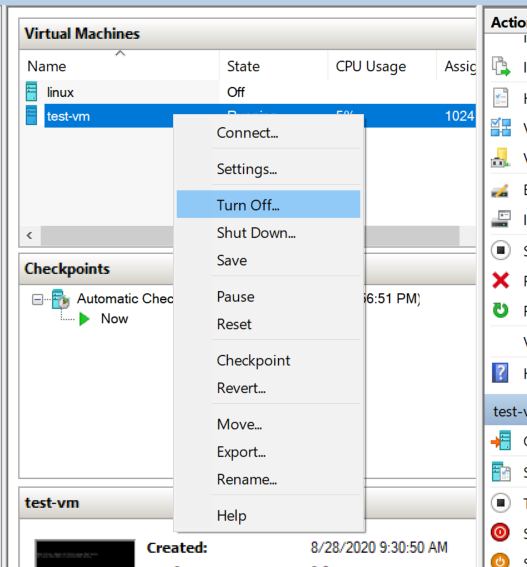 Reboot Hyper-V Server
If a merge is still not performed, reboot the Hyper-V server.