How To Enable Synthetic Full Backup
Synthetic backup is a backup type that creates a full backup using in-cloud data copying. This backup type is required for Forewer Forward Incremental backup. If a plan type and destination support synthetic backup, it will be switched on automatically, but for MinIO and other S3-compatible storage accounts, the synthetic full backup can be enabled in the storage account properties.
To successfully enable synthetic full for the backup storage, perform the following steps:
Enable the synthetic full backup in storage account properties.
Create files backup plan for testing purposes using this backup storage destination. Run this lan manually once.
Force the synthetic full backup for this backup plan. In case the forced backup plan run is successful, you can use this backup plan destination to create backup plans with Forever Forward Incremental schedule.
Step 1. Enable Synthetic Backup for Backup Storage Destination
To enable the synthetic full backup, proceed as follows:
In the application menu, select Edit Storage Accounts.
Find the required storage account then click Edit.
Click Advanced Settings.
Select the Use synthetic full backup check box.
Click OK.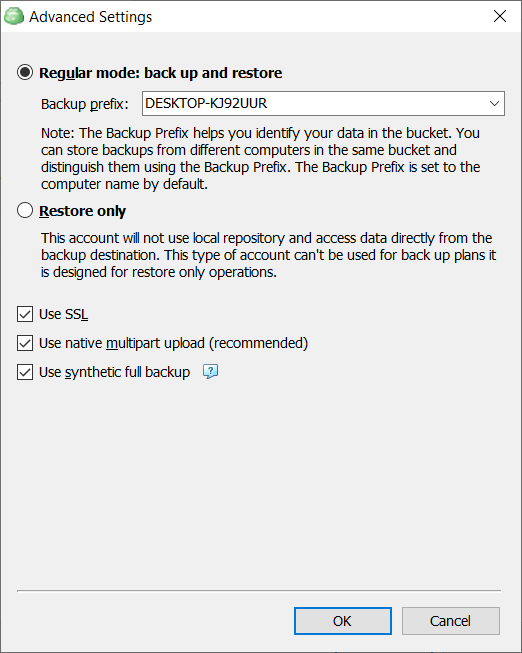 Step 2. Create Backup Plan for Testing Purposes
Synthetic backup applies for the following backup types:
File-Level Backup
Image-Based Backup
VMware Backup
Hyper-V Backup
For testing purposes it is recommended to create files backup plan.
To create a new file backup plan,
Click the Files in the horizontal menu bar. The Backup Wizard starts.
Name the plan, then click Next.
Select Backup Storage you want to test. Once you selected backup storage, click Next.
Proceed with the backup plan wizard.
Specify the retention policy for the backup plan.
Select No schedule... option on the Schedule step
Complete the backup plan wizard.
Run the backup plan once manually.
Now you are ready to force synthetic full to test if you backup storage destination supports required in-cloud operations.
Step 3. Force Synthetic Backup for Backup Plan
To a synthetic backup for testing purposes:
In the application expand the backup plan you want to run a synthetic full backup for.
On the Run control, open the drop-down menu.
Click Force Synthetic Full Backup.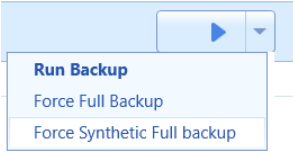 Check whether this backup plan run is completed successfully.