Restore Verification Failed (code 2044)
Situation
An image-based backup plan (or any other plan with supported and enabled Restore Verification feature) terminates with the following warning: Restore Verification Failed. Restore Verification requires UEFI-compatible Hyper-V virtual machine. The installed Windows version does not support UEFI VMs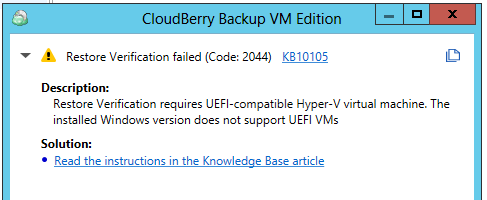 Cause
The cause of this warning is stated in the description: Restore Verification requires UEFI-compatible Hyper-V virtual machine. This means you have a Windows Server 2012 operating system or any other with no UEFI virtual machine support.
Solution
If your backups strictly require Restore Verification, consider upgrading the Windows version to the one with the UEFI Hyper-V virtual machine support.
Otherwise, disable the Restore Verification by editing the backup plan configuration.