Invalid username or password
---
Problem
When trying to sign into MBS desktop agent, the following error pops up: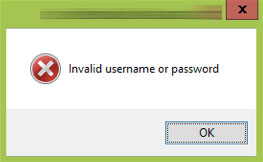 This is because the username and password are taken from the Admin section rather than the Users. However there might be username or password mistype (double check your data).
---
Resolution
All MBS users should be either created or approved (when using AD bridge) through the Users section as displayed below:

---
Contact Us
In case of you have any questions, you can contact us by creating a Support Portal ticket at support.msp360.com portal.